VIR To Host Round 4 of the 2020 IGT Season
VIR Ready For Racing September 24-27
It might not look exactly as you remember, but VIR is more than ready to host International GT with SVRA and Trans Am, September 24-27!
There is a message of "LOVE" at the crossover bridge and our favorite horse statue that stands proudly outside the paddock is following CDC guidelines using a face covering. Additionally, we're reminded that Virginia is for "Racing" Lovers!
Lastly, we get our first glimpse (above) of one of our annual VIR entires, Reg Williams in his new Porsche GT3R getting in some early practice laps at the VIR circuit.
Click on the VIRginia International Raceway logo below to register for the race. If you have any registration questions please contact Julie at Julie@InternationalGT.net or (770)380-7770.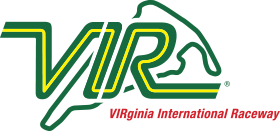 ---
Marketplace
2018 Ferrari Challenge Race Car 
Classic Rosso Corsa Exterior 
Chassis #ZFF87EXX000231836
6,671 KM
Competed in six Ferrari challenge races in 2019
Numerous top 5 finishes
Front passenger fender was replaced, other than that, no accidents or major damage. 
Extremely clean
Spare set of wheels included
All records available

Price: $239,000, OBO
Contact: Hugh Plumb Team TGM
(302)540-5444, hughplumb@gmail.com
---
2020 Schedule
Updated August 2, 2020