Friday's Twilight Sprint Follows 2014 Awards Ceremony Thursday at Palm Beach International Raceway
PALM BEACH, Florida (February 13, 2015) – Mark Greenberg and Dominique LeQueux were the first drivers to strike this season in The Stuttgart Cup™ and Mission Foods GT3 Cup Trophy USA by Car Amigo as each raced to flag-to-flag victories in Friday's Twilight Sprint at Palm Beach International Raceway, the first of three races at this weekend's Palm Beach Grand Prix.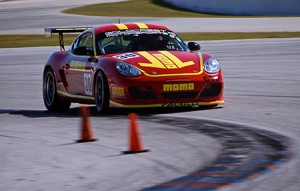 Greenberg took overall honors and the Mission Foods GT3 Cup victory in the multi-class race in his No. 77 NETTTS/Orbit Racing Porsche 911 GT3 while LeQueux topped the Stuttgart Cup division in his MOMO-themed No. 30 Cayman S prepared by Goldcrest Motorsports.