Road America Next Up For The Stuttgart Cup™ and Mission Foods GT3 Cup after Successful Weekend at the Classic Motorsports Mitty
ELKHART LAKE, Wisconsin (May 5, 2015) – Following one of the biggest event weekends to date for The Stuttgart Cup™ and Mission Foods GT3 Cup Trophy USA by Car Amigo just over two weekends ago at the 38th Anniversary Classic Motorsports Mitty presented by Hagerty, the two Porsche racing series next head to Road America for the Spring Vintage Festival, May 14 – 17.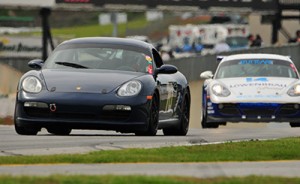 All Caymans, Boxsters and Porsche 996, 997 and GT3 Cup competitors are welcome to get in on the Road America action. Entries received by the close of business tomorrow, Wednesday, May 6, will be discounted $300 from the standard price. The entry form can be found by clicking here.
First-time entrants area also eligible for an additional $500 discount through an incentive program supported by series partner Bob Woodman Tire.
The weekend features a full four days of testing, practice, qualifying and sprint and enduro races. Sprint races will be run on both Friday and Saturday afternoons with the enduro set for mid-day Sunday.
The provisional full event schedule is available by clicking here. The schedule for the Thursday, May 14 test day is available by clicking here.
The momentum of a successful event at The Mitty should carry straight to Road America where The Stuttgart Cup™ and Mission Foods GT3 Cup will race together for the first time on the legendary 4-mile road course.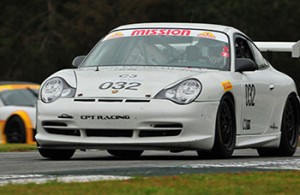 A full field of Stuttgart Cup Caymans and Boxsters and Mission Foods GT3 Porsche 996s, 997s and GT3 Cup cars made The Mitty the biggest race the series have run since debuting together at the same Historic Sportscar Racing (HSR) event at Road Atlanta last year.
The on-track action at The Mitty was close and competitive with eight different drivers – including two co-driver pairings – winning races in the various Stuttgart Cup and Mission Foods GT3 classes.
Weekend enduro-race honors went to Mission Foods GT3 driver Juan Lopez-Santini and two-time and reigning Stuttgart Cup champion Bill Riddell.
Lopez-Santini earned Mission Foods GT3 Cup 3.8-liter 997-class honors in the Saturday enduro and in a sprint race earlier that day. The 901 Shop driver was the only GT3 Cup or Stuttgart Cup competitor to double up on wins to earn some valuable championship points in his 2015 series debut.
Riddell won his second consecutive Stuttgart Cup enduro on Sunday at The Mitty after also taking long-race honors one event earlier at Homestead-Miami Speedway. Riddell drives his Racelink-prepared No. 05 Cayman that displays a flat black and while livery reminiscent of the Porsche 918 prototype race car.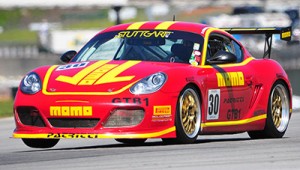 Also in Stuttgart Cup Cayman competition, Dominique LeQueux kept his 2015 event win streak going with a victory in the sprint race in his No. 30 MOMO-themed Cayman S prepared by Goldcrest Motorsports. LeQueux has now won a race in each of the four events run so far in 2015, including both sprint races in February's season-opening Palm Beach Grand Prix.
Stuttgart Cup Boxster-class honors in the sprint went to John Reisman in the Hudson Historics-prepared No. 70 entry. Reisman later teamed up with his father, Paul Reisman, to win the Boxster class in the enduro.
Other Mission Foods GT3 Cup winners included Wayne Wilkerson, who shared the top step of the podium with Lopez-Santini in the sprint race, and Jonathon Ziegelman and Allan Ziegelman in their No. 911 997 GT3 Cup Porsche. The Ziegelmans won in the 3.6-liter 996 class in the enduro while Wilkerson took honors in the same class in the sprint in his No. 901 Porsche prepared by Gilsdorf Racing.
The Mitty's close competition is sure to continue at Road America where The Stuttgart Cup™ and Mission Foods GT3 will race on a Sportscar Vintage Racing Association (SVRA) event weekend for the second time this year. The Homestead-Miami race was also a SVRA sanctioned event.
About The Stuttgart Cup™ and the Mission Foods GT3 Cup Trophy USA by Car Amigo: The Stuttgart Cup™ and the Mission Foods GT3 Cup Trophy USA by Car Amigo are managed by Americas GT Cup L.L.C. Both series are sprint and endurance race based with The Stuttgart Cup™ open to all Porsche Caymans and Boxsters and Mission Foods GT3 open to all 2000 and later Porsche 911 GT3s and related models. Rules for both series are centered on power to weight ratio. All competing Stuttgart Cup cars must compete with stock make and model engine and transmissions with approved allowances for exhaust and intake modifications. Stuttgart Cup organizers also welcome all competitors with existing race-prepared Caymans or Boxsters to compete with body and engine modifications balanced within series power to weight ratio parameters. All such competitors will not be eligible for championship points or class-designated race wins, but the door is always open to all Cayman and Boxster competitors to get in on the action.
The Stuttgart Cup™ and Mission Foods GT3 Cup Trophy USA by Car Amigo race with the support of series partners Mission Foods, Pirelli Tire North America, BRM Chronographes, VP Racing Fuels, Pacifico Costa Rica, Palm Beach Driving Club, Car Amigo and Bob Woodman Tires.
Follow The Stuttgart Cup™ on Facebook at The Stuttgart Cup and on Twitter @StuttgartCup. For additional information, a copy of the rules, or questions and inquiries, please contact StuttgartCup@Racerlk.com or visit www.StuttgartCup.com.
Contact: SaalGood – Adam Saal (321) 890-2848 – SaalGoodPR@gmail.com